Sending (Uploading) Multiple .src Files from the 1099 Express Program for 2019 forward.


- Save all 1099 Source (*.src) files in one folder.
- For example: C:/E2019/MyFiles
- Maximum of 30 files per folder.
- If more than 30 files, create additional folders.
- Verify you have the latest Version by clicking on then Internet Menu then "Check for New Version"
- Make sure no .src file is open.
- Click the Service Bureau Menu, then Send.






- Check the Method and Purpose shown below.
- Type your sender's information. Email is critical for confirmations.
- Click I Agree - Continue and Send.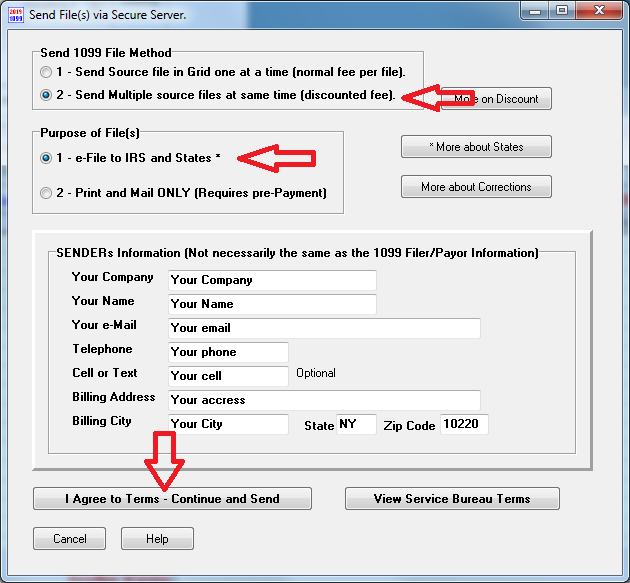 Step1. Navigate to the folder which contains your .src files. Click on that Folder.
Step2. It will display all your .src files under "Step2".
Step3. Click "Add All".
Step4. The Bottom Window shows all files to be sent in "red". Each file must end with .src
Step5. Click OK to continue.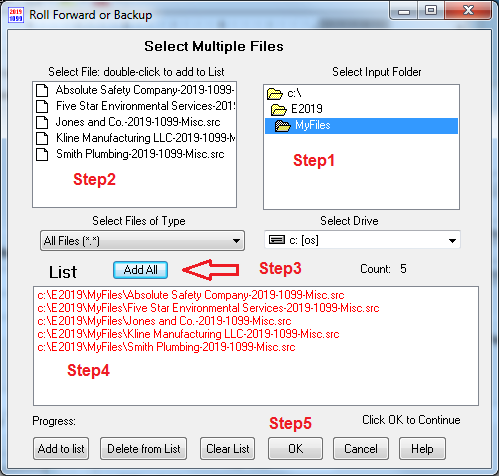 - Make sure the Customer ID is shown below (not 123465). If no Customer ID, call tech support 361-884-1500
- Click the "Step 1 Pay" Button below.
- Make sure the "New Invoice Number" appears in the white box below.
- Write down the new invoice number.
- It then goes to your Browser on the Internet.
- Make sure the Internet windows is Middle Sized (not taking your entire screen).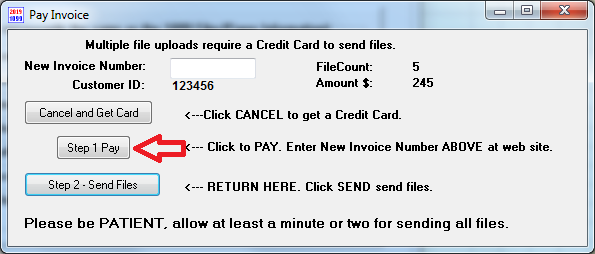 - Make the Internet Window Middle-Sized.
- Type or paste the Invoice. Then Click Add.
- Type your e-Mail.
- Click Pay Invoice.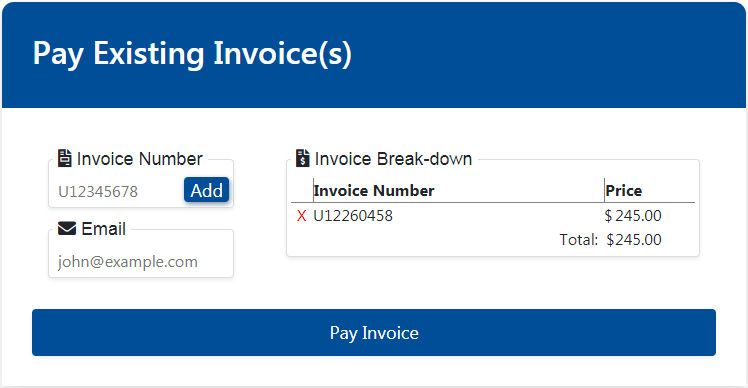 - After your Successful Confirmation, Close your Internet Window (X-Out) or Print Page, then Close.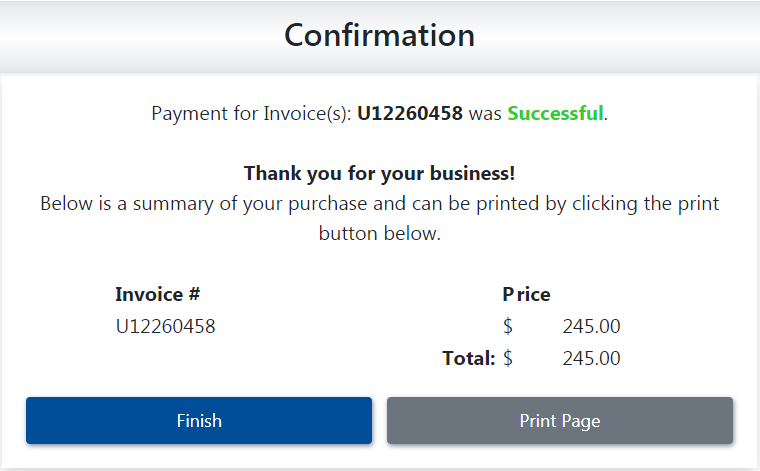 Click the Task Bar to SEND your files.




After Successful Payment - Click "Step 2 - Send Files"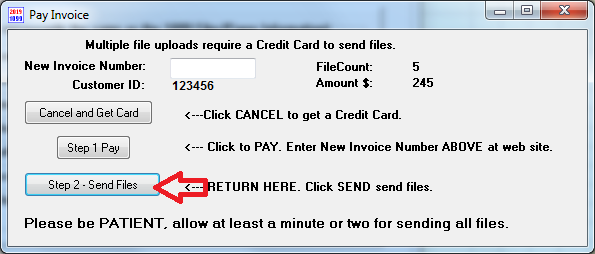 Click the Print Button below, to keep a record of files sent to the IRS, then Click CLOSE.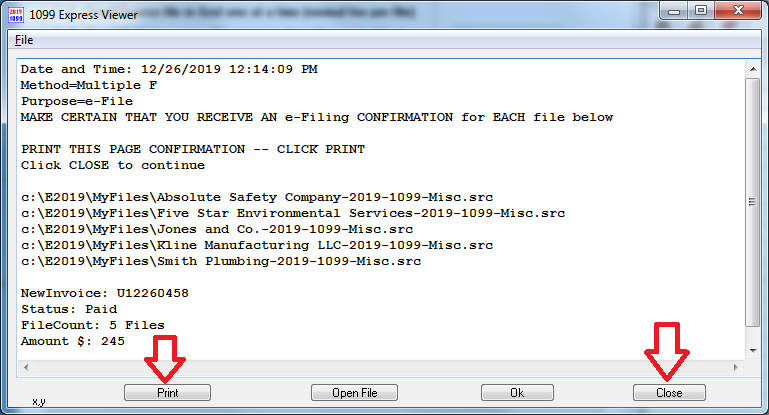 The window below appears, confirming the files that were sent (uploaded). Click OK.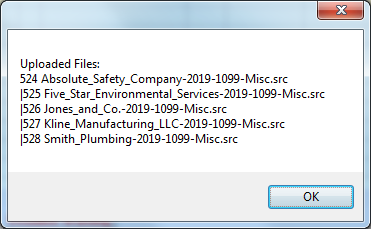 Notes:
You can also print a list of files sent by clicking on the Service Bureau Menu, then View Sent Log.
1099 Express will valididate your file format before sending to the IRS, to make sure it can be e-Filed.
All .src files sent to the IRS for e-Filing, will be marked in the internal Y Record as e-Filed, so that such file can not be e-Filed more than once.
All .src files sent to the IRS for e-Filing, will be marked as "Read Only", so that the forms inside can not easily be added, changed or deleted, after being received by the IRS.
A maximum of 30 files can be sent to the IRS at one time.
If you have Missing SSNs, please Click the Options Menu, then "Allow Blank SSNs". This will allow you to e-file and avoid late filing penalties. And make corrections later when the correct SSN is obtained.
If any problems occur, call Tech Support at 361-884-1500