Print & Mail
---
Our Service Bureau can print all the forms generated by our Suite of software products using a state-of-the-art print house in a secure SOC I Type II environment. We printed over 1 million forms last year and are fully capable of printing and mailing many more.
This is a turnkey price for a simplex form and includes ALL FIRST-CLASS POSTAGE, supplies and all labor. Additional fees apply for multiple pages.
A postage deposit is required prior to mailing any forms due to postage being an upfront nonrefundable expense for us.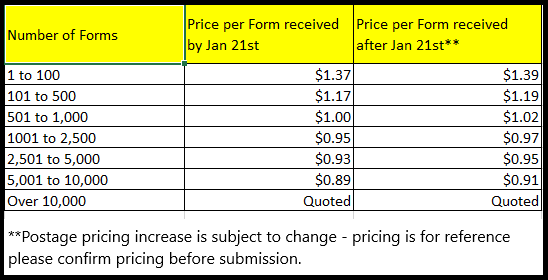 We use the Indicia shown below which does not require an actual calendar date stamp on day of mailout. Please see the definition below.

Indicia definition, a postal marking used rather than a stamp or a regular cancellation on each item in a large shipment of prepaid mail.
Our printing and mailing services are not exclusive to forms. We can provide W9 solicitations letters or any other type of mail outs that may be required. Please call one of our friendly staff to help you with any printing and mailing needs. 361-884-1500
Sample Forms: