How To Copy and Paste from Excel
---
To quickly understand Copy and Paste from Excel, download and install the program (it takes 15 seconds, no personal data is requested). Then, open the sample Excel spreadsheet Misc.XLS (located on the C:\ drive in the E20XX folder)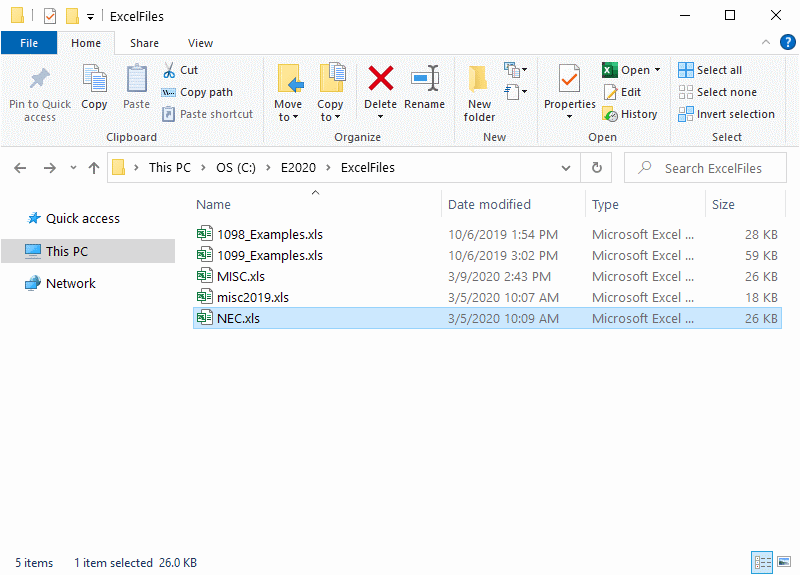 Once the Excel spreadsheet opens, copy the top 10 rows of the sample spreadsheet to the clipboard.

Then go to the Desktop and launch the 1099Express program by double clicking the icon.
Click the Edit Menu then "Paste from Excel by Header Name".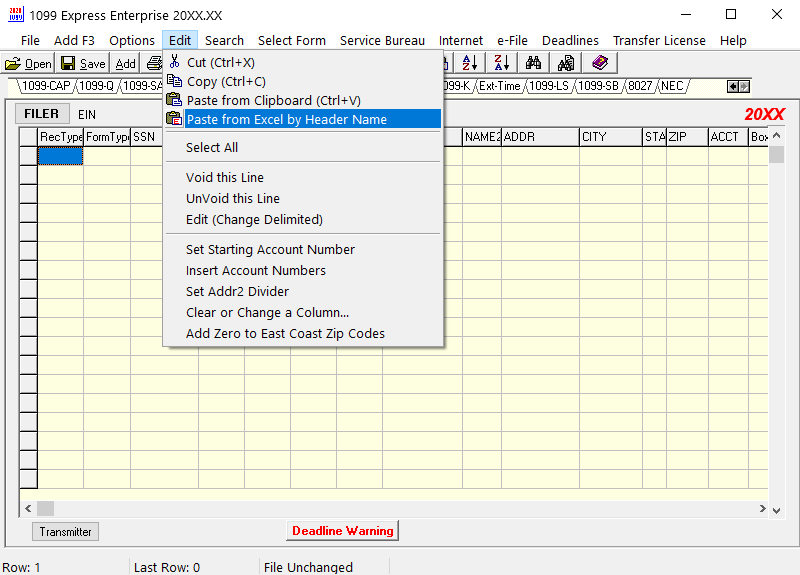 Please note that the columns have been rearranged to match the 1099 Express grid

1099 Express can import thousands of payee records in seconds. To Copy and Paste from Excel by Header Name, insert headers in Row 1 to match the information in your columns. Headers must be spelled like the 1099 Express grid headers. Paste from Excel by Header Name automatically rearranges your columns to match the 1099 Express grid. If you have a non-used column, just leave the header blank.
2 Easy steps and you can import all your data:
1. Select only the columns and rows in your spreadsheet that contain data then right click on your mouse and choose Copy.

2. Switch to the 1099 Express program and click Edit and choose Paste from Excel by Header Name.
And you are done! This import method works instantly, even with thousands of records. 1099 Express can import other formats supported by Excel, including QuickBooks, Access, Dbase, fixed and delimited text files, and many other formats that can be opened with Microsoft Excel. We also offer a free XPS program that will convert data from other software into an acceptable format.
Note: Importing is designed to avoid re-typing data, which can be exported from an accounting or other system. If you plan to type your records manually, you may still use Excel. However, you may also use the option AddF3 in the 1099 Express program which will validate each record as it is typed.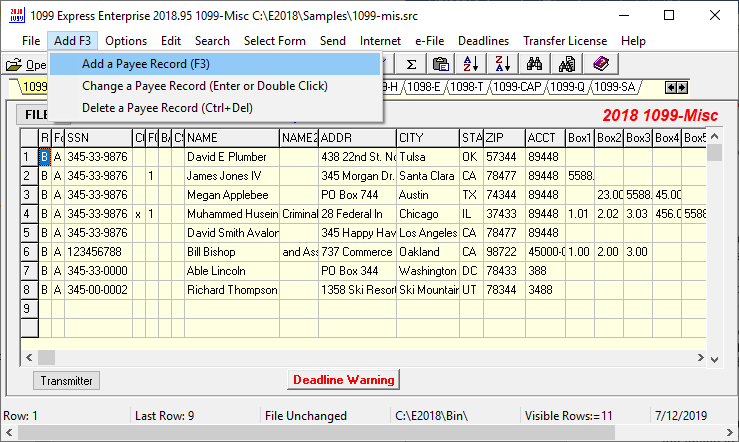 We are available for questions or to help - please give us a call at (361) 884-1500 and one of our friendly Texas based associates will be happy to help.